Distillery Lifestyle
Gooderham condominiums provide much more than Home Ownership, we provide a lifestyle not found in any other community. In a 13-acre pedestrian village, your home is in the midst of a historical site, theatres, galleries, restaurants, café's, shopping and much more! Our goal is to provide you both, a beautiful new condominium equipped with signature amenities as well as a lifestyle experience. The development of your new home was built on the concept of lifestyle choice and we are here to help you and your guests experience all that the Distillery has to offer.
Click below to find more exciting information about the Distillery Historic District
COFFEE, CULTURE & MORE IN THE DISTILLERY DISTRICT | Read more
VIBRANT FESTIVALS AND ART ON THE STREET | Read more
A COOL URBAN LIVE-WORK-PLAY NEIGHBOURHOOD | Read more
A CELEBRATION OF HOLIDAY MAGIC | Read more
---
For Kevin Bonnici, proprietor of Café Furbo, the Distillery District is not just a place of work, it's where he lives too
WHEN LIFE GIVES YOU AN ESPRESSO …
COFFEE, CULTURE & MORE IN THE DISTILLERY DISTRICT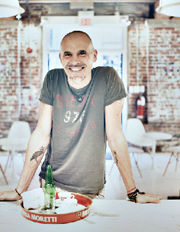 Minimalism is a phrase you would normally associate with an art gallery, not a coffee shop. Unless the coffee shop happens to be Caffe Furbo. This eclectic eatery, located in the historic Distillery District, draws you in with its imposing ceiling of original yellow pine and large douglas fir beams, and captivates you with its chic Euro-Parisian ambience. Since he opened it in January of 2011, proprietor Kevin Bonnici has painstakingly detailed it to reflect the Distillery District's unique, contemporary Victorian vibe. On any given day, a fascinating assortment of young urban professionals, artists, musicians and creative types hang out in its lounge-cool interiors and imbibe the unique flavour and atmosphere, along with the different varieties of coffees served in the establishment.
For Kevin, the Distillery District is not just a place of work, it's where he lives too. He remembers the first time he visited it. "We were living in Cabbagetown, when we chanced upon the Distillery District. My wife had heard of a great coffee shop called Balzac's. It was the perfect place to warm up on a cold winter weekend; I remember saying what a great place to buy into a loft. A few years later we found ourselves at the sales centre of Pure Spirit Condominium and ended up buying here."
VIBRANT FESTIVALS AND ART ON THE STREET
The 32-storey Pure Spirit was the first condominium in the Distillery District to be completed and occupied in 2008. Since Kevin moved into his new home, he's seen the Distillery District evolve into an artsy urban neighbourhood. "The Distillery is in constant flux," he says. "It is, by nature, a collective of artisans, artists and small businesses, and its interaction with the public is one of unique creativity and commerce. The addition of various outdoor festivals year after year has raised its profile and vibrancy – Nuit Blanche, the outdoor art market, the vegetable market and the Christmas Market. We keep hoping for an outdoor ice rink!"
With its charming historic Euro-ambience, brick-lined streets, inviting courtyards and industrial-chic period Victorian architecture, the 13-acre Distillery District is one of Ontario's hottest tourist attractions and is rapidly becoming the coolest Toronto neighbourhood to live in. In many ways, Kevin's Caffe Furbo is a microcosm of what the Distillery District stands for – a touch of European avant-garde mixed in with more simple fare, be it food or art. "My menu is also minimalist, but what we lack in quantity is well-made up in value-conscious quality. Our paninis are delicious and so are our freshly baked Italian specialty croissants, such as apricot or Italian Custard. But the standout is the espresso and the espresso drinks made with Caffe Haiti Roma coffee beans."
click here for Café Furbo's website
A COOL URBAN LIVE-WORK-PLAY NEIGHBOURHOOD
Like Kevin, today, more and more Torontonians are discovering the unique live-work-play paradigm of this unique neighbourhood. And for them, the Distillery District now offers two exciting new condominium opportunities, the 36-storey Gooderham. Both residences are now under construction and will be ready for occupancy in 2012 and 2013 respectively. There's still a fine selection of 2 storey, suites and penthouse designs available in both residences, starting from the mid-$300's. The Tower Suites come with wraparound balconies and large windows, while the Penthouse Suites offer expansive interiors, spa inspired master ensuites, gas cooktops and fireplaces. A few two-storey designs are available, offering two levels of exquisite living. The condominiums offer a wealth of social and fitness amenities, ranging from a state-of-the-art gym to a splendid outdoor swimming pool and a magnificent rooftop terrace deck with stunning views of the city.
A CELEBRATION OF HOLIDAY MAGIC
This holiday season, the Distillery District will be transformed into a winter wonderland of lights, colour and magic. With an opening night kick off celebration on November 16th 2012, the Toronto Christmas Market will run until November 30th 2012. Like all who live, work and visit here, Kevin is eagerly waiting for the festivities to begin. Last year's event was so successful, it was honoured with a Gold Award. This year's Christmas Market is also expected to create a warm and inviting environment for people of all ages.
Ultimately, the Distillery District is carving out a cool urban niche for itself. Kevin has the last word on it, "It is a real pleasure to live, love and work at the Distillery District; a home-work experience, a place where my creative juices can flow and reach many people."